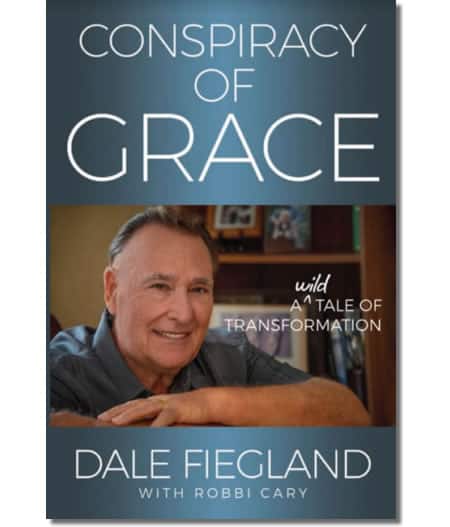 "Conspiracy of Grace is riveting, real, fun, and powerful." -D. Streeter
A conspiracy is normally a plot to bring someone down, but God conspires amazing
plans for our good. Dale's story displays this truth vividly and with humor.
Order Now!
About the Book
About Conspiracy of Grace
Conspiracy of Grace: A Wild Tale of Transformation
From the Mafia to the ministry, a wild ride of a story.
Struggling and persistently fighting against family put-downs and abuse of every kind turned Dale Fiegland into a gun-
toting, knife-wielding, Mafia runner addicted to alcohol and drugs—the kind of man God loves to get ahold of and
change. When Dale finally stopped fighting God and asked Him for help, miraculous events followed that can only be
called a Conspiracy of Grace.
This winsome, true story—touched with humor—is shared in plainspoken style by a pastor/counselor unlike any you may
have met. Dale's story helps lift the spiritual veil, enabling readers to see how God works amid life's gritty, hard-hitting
realities. This book will engage and delight you and may challenge some of your ideas about God and faith.
Dale's bumpy ride held many surprises. He learned, with the help of God, AA, and his quirky sponsor, Bob, how to have
a relationship with God, find enjoyable sobriety, and grow in simple lessons like telling the truth no matter what. It took
Dale even longer, and a few crazy events, to agree with God's incredible plan that he was to be a pastor.
(Conspiracy of Grace includes photos, appendixes, and resources.)
Dale Fiegland's short bio
Born and raised in northern Ohio, Dale Fiegland graduated from Anderson College, taught in the inner-city schools of
Cleveland, and attained success in business, even as his life spun out of control.
Eventually, God blessed Dale with many miracles, including a new, transformed life; an incredible ability to help
struggling people find hope; convinced him to become a pastor; and enabled him to complete a master of arts degree in
counseling from Liberty University. All of this culminated in a remarkable twenty-five year ministry as counseling pastor
at Riverside Church in Fort Myers, Florida, where he specialized in assisting those dealing with drug or alcohol addictions
or various forms of abuse. In addition, numerous churches, through the years, have sought his help as a consultant in
handling difficult matters.
After being bestowed with the title of pastor emeritus, and retiring from Riverside, Dale has continued to provide
counseling to the hurting. Since retiring in 2012, he has continued to provide assistance to many for another ten years (and
counting).
Endorsements
I found Conspiracy of Grace to be an easy read. Pastor Dale is only two years older than I am, so some of the experiences about which he speaks are nostalgic to me. I must admit that our milkman drove a truck and didn't have a horse. Pleasant Valley Lake reminds me of several local quarries or lakes to which my parents took me as a child. I see where the name Conspiracy of Grace originated. Whenever Pastor Dale was in the depths of hopelessness, God graciously provided someone to show him the right path. I praise Pastor Dale for not leaving behind the alcoholics and addicts with whom he once associated after cleaning up his act. It took courage to admit the depth of his sins, even after being saved and becoming a pastor. Dale is an inspiration for his commitment to help and counsel others
– Larry A. Anderson, Louisville, KY
I cried, laughed, felt hopeful, and inspired.
– Mark S.
What a story! I can see why you and others encouraged Dale to share. It's encouraging and timely. It's also helpful to understand the power, simplicity, and ability of the 12 Steps to bring healing and spiritual growth for those who utilize them. Thank you for sharing this life-changing book!
– Roberta C.
More happened to Dale by the time he was fifteen than has happened to me my whole life. What an exciting read!
– Miguel H.
It's unpretentious, real, and captivating.
– Johnny A.
Disclosure of Material Connection: Some of the links in the page above are "affiliate links." This means if you click on the link and purchase the item, I will receive an affiliate commission. I am disclosing this in accordance with the Federal Trade Commission's
16 CFR, Part 255
: "Guides Concerning the Use of Endorsements and Testimonials in Advertising."